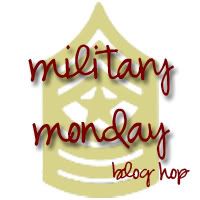 For those of you just joining our blog, WELCOME! We are happy you stopped by and we encourage comments. Military Monday (week 10) is brought to you by
Marine Parents
,
Life with Littles
, and
Forever Neighbor
. Click any of these links to send you to the blog hop! Join! Meet some people! Leave Comments, and Enjoy!! Remember to take the button for everyone to share and join!
Stay tuned for this week with, Thursday January 27 at 12 EST, with
House Hold 6 Diva's
2011 Blizzard Blog Hop.
Mostly Mondays are not the best day of the week. It doesn't help that where Red Leg is at it's -24 degrees without wind shield. However, it's days like today when I appreciate not working. I can stay in my jammies, footie socks, ugg slippers, quilt warm around me and not worry about traveling outdoors. Do you ever have days like this? Too bad my hubby wasn't home or else we would cuddle together! I guess this just goes on the record of one more thing we can endure while our Soldiers' are deployed!
Keep House Warm. CHECK
Shovel snow for five days straight. CHECK
Don't get frostbite. CHECK
If you're somewhere cold, I hope you are finding fun ways to stay warm inside. Go see a movie. Read a book by the sun beaming in your window. Do a puzzle. Anything to keep your mind sane and your heart happy (warm).
Red Leg